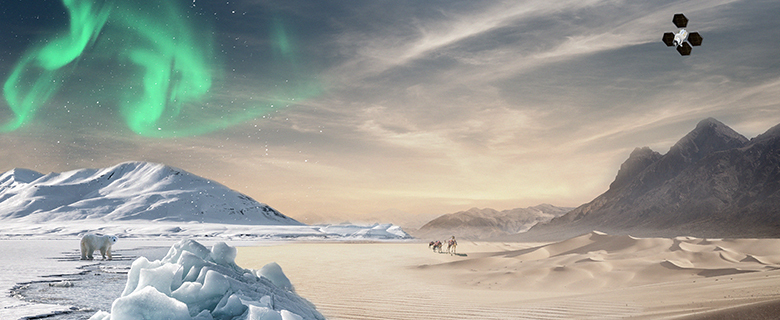 We are sorry to inform you that due to unforeseen circumstances, the "Science Book Forum: Qatar-NASA Joint Mission Concept to Study Deserts" event scheduled for 2 May 2021 has been canceled. We apologize for any inconvenience.
Under a Space Act Agreement with NASA and Qatar Foundation, represented by Hamad Bin Khalifa University (HBKU) and the Qatar Environment and Energy Research Institute (QEERI) at HBKU, NASA's Jet Propulsion Laboratory and QEERI will jointly formulate the first mission concept dedicated to assessing both cold and warm desert responses to climate change. In particular, the mission will use radar subsurface mapping to explore the thickness of parts of the ice sheets in Greenland and Antarctica that control sea level rise in the upcoming decades, as well as mapping the shallow aquifers in North Africa and the Arabian Peninsula and how they respond to climatic and human drivers.

Join the Science Book Forum to learn more about the first Qatar-NASA scientific mission concept to explore deserts' response to climate change.
This special forum will feature an introduction by H.E. Dr. Hamad Bin Abdulaziz Al-Kawari, Minister of State and President of Qatar National Library, and speakers Dr. Essam Heggy, project principal investigator, and Dr. Artur Chmielewski, project manager from NASA's Jet Propulsion Laboratory.
Date: 2 May 2021
Time: 10:00 – 11:30 PM
Language: Arabic and English
Target Audience: 14 years old and above