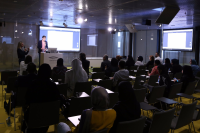 • Microsoft Visio training is designed to provide patrons with basic information about this Microsoft software.
• It will address main features of Visio and different settings when it can be used.
• Hands-on activities that will cover main elements of the diagrams.
• It will give patrons more insight into some more advanced features (formatting, printing, sharing the files.)
10:00:00 AM - 12:00:00 PM
The training is in English.