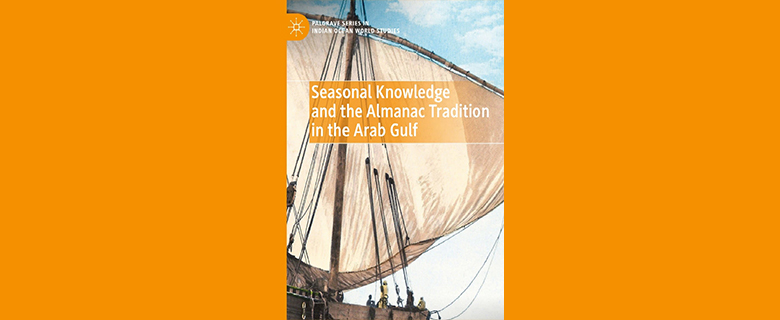 Anthropologist and historian Daniel Martin Varisco will discuss his new book, a survey of indigenous knowledge of seasonal, astronomical, and agricultural information in almanacs and folklore of the Arabian Gulf.
The book extensively analyzes traditional information based on local almanacs, Arabic texts, and poetry by Gulf individuals, ethnographic interviews, and online forums. A significant feature of the book traces the history of terms and concepts in the local seasonal knowledge of the Gulf - including an essential section about stars - stemming back to the ninth century CE. Also covered are pearl diving, fishing, seafaring, and pastoral activities.
This book will interest scholars who study the entire Arab region since much of the lore was shared and continues through the present. It will also be of value to scholars who work on the Indian Ocean and Red Sea Trade Network, as well as the history of folk astronomy in the Arab World.
Qatar National Library Manuscript Specialist Mahmoud Zaki will moderate the event, introducing the rich almanacs kept at the Heritage Library that were used to help write the book. Beginning with the original manuscript of Āl Zawāwī's Al-Zubarah almanac, it will also feature works of Al-'Uyuni and will continue up to Al-Ansari's works, particularly the famous Qatari almanac, which was created for the Gulf region and was printed each year until the present day, which now also sees it published in a digital format as a mobile application.
The Author:
Daniel Martin Varisco is an anthropologist and historian with research experience in Yemen, the Arab Gulf, and Egypt. He was a fellow at the Arab Gulf States Folklore Centre from 1988-1989 and taught at Qatar University from 2014-2017, receiving a grant from the Qatar National Research Fund for this research. He has written about Arabic folk astronomy and astrology, traditional agriculture, the history of the Arab almanac, and Yemen during the Rasulid era (13th-15th centuries CE).
The event will be conducted online via Zoom in English, with simultaneous interpretation provided in Arabic, and live-streamed via the Library's YouTube channel.
Date: 22 February 2023
Time: 4:00 - 5:30 PM
Language: Arabic and English
Target Audience: Researchers and the general public.
Seats are limited, please click the button below to register.