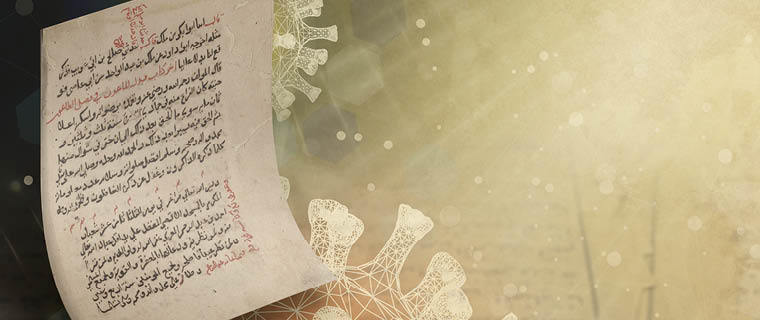 The plague is the most significant epidemic in history. It repeatedly and almost regularly afflicted the ancient world, claiming hundreds of thousands of lives in the process. Independent writings on the plague increased since the Big Plague or the Sweeping Plague (1348 CE/749 AH). Due to the large number of Arabic works on this genre, what could be named "Literature of Plagues" emerged reflecting the interaction of the learned elite (particularly jurists and hadith scholars) with an epidemic that physicians were unable to diagnose accurately and to treat as well. Tensions arose between the experimental medical and religious references.
To mark the Arab Manuscript Day on April 4th, the Heritage Library will host Dr. Mutaz Al Khatib, Professor of Methodology and Ethics, Research Center for Islamic Legislation and Ethics (CILE), at the College of Islamic Studies at Hamad Bin Khalifa University, to give an interdisciplinary reading of Arab heritage texts on plagues and epidemics.
The lecture is moderated by Mahmoud Zaki, Manuscript Librarian at the Library, who will give an introduction to the subject that highlights two manuscripts in Heritage Library collection, namely: Badhl al-ma'oon fi fadl al-ta'oon [An Offering of Kindness on the Virtue of the Plague], by Ibn Hajar al-Asqalani and Mijannat Atta'oon wal waba [The Shield from Plague and Epidemic], written by the Spanish-Jewish physician Elias bin Ibrahim for Othman Sultan Bayezid II.
This lecture is an extension of the discussion that was held in a previous session and in an article to be published soon on the Library's blog.
The session will be held in Arabic with an interpretation in English.
The event will be conducted online via Zoom. The event link will be shared one day before the event.
Date: 12 April 2021
Time: 6:00 - 8:00 PM
Language: Arabic and English
Target Audience: Public
Seats are limited, please click the button below to register.