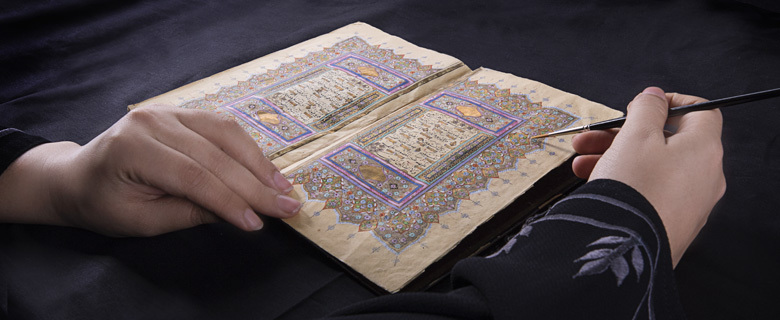 In our full-day event commemorating International Women's Day, we will celebrate the creative power of women in the Islamic art of the book. Calligraphy, illumination, miniature painting – the art of the book is the most fundamental element of Islamic art and is highly regarded throughout the world. Although there is a growing body of research on its origin and development in general, little is still known about the role women played in the evolution of Islamic book art.
Several historical lectures, artist talks and video streams of contemporary practitioners will explore women's talent and influence in the Islamic art world throughout history, showing that much of that heritage is still alive today.
Agenda
Session 1: 10:00 AM – 12:30 PM
Introduction
Dr. Sabiha Göloğlu, "Libraries, Prayer Books and Ottoman Royal Women"
12:30 – 1:30 PM Lunch buffet
Session 2: 1:30 – 3:30 PM
Dr. Mehreen Chida-Razvi, "Almost Anonymous? Female Artists and Calligraphers at the Mughal Court"
Dr. Marika Sardar, "Mughal Women's Patronage in Focus: Hamida Banu Begum and her Manuscripts"
3:30 – 4:00 PM Coffee break
Session 3: 4:00 – 6:30 PM
Khadiga El Ghawas, "My Journey of Light" (video)
Anita Chowdry, "Islamic Illumination: One Woman's Personal Quest"
Dr. Veeda Ahmed, "Drawing on Tradition"
6:30 PM Final reception with refreshments
Date: 7 March 2019
Time: 10:00 AM – 6:30 PM
Language: English, with Arabic interpretation provided
Target Audience: General public
This is an open event; RSVP is not required.