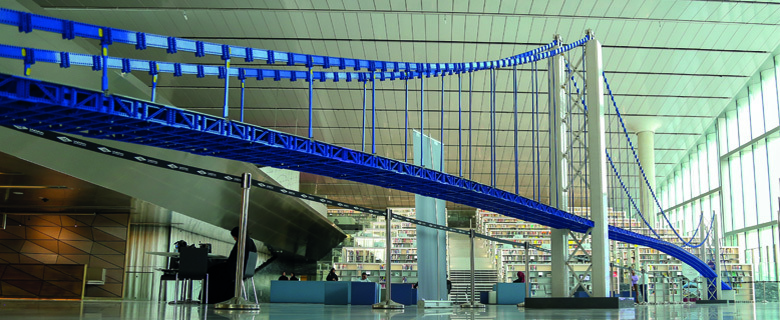 At 33 meters long and weighing about half a ton, this is the longest Lego® brick bridge in the world, blending architecture, engineering and mathematics. The bridge was designed by Dr. Robin Sham of the UK-based Institution of Civil Engineers and uses more than 260,000 Lego® bricks. Students from local schools, as well as children and their families from around Qatar, helped assemble the bridge under the guidance of expert builders from Bright Bricks, a large-scale Lego® construction firm, along with AECOM engineers and volunteers.
The last brick was placed on 2 December 2018 by the Library's Executive Director, Dr. Sohair Wastawy, in the presence of Mrs. Sam Ayton, Director of the British Council, Qatar and Dr. Waseem Kotoub, Director of the Qatar British Festival.
The bridge, which will be displayed until 6 January 2019, symbolizes the strong cultural ties between Qatar and the UK as part of the fifth edition of 2018 Qatar British Festival, organized in collaboration with the British Council and the British Embassy in Qatar.
Time: During the Library's opening hours
Language: Arabic and English
Target Audience: Public
This is a public event; RSVP is not required.